The Alexander McQueen brand, founded by the British designer Alexander McQueen himself, seamlessly showcases strength and fragility with every design, not least of which the Alexander McQueen sunglasses collection.
---
Alexander McQueen
---
Before his tragic death in 2010, McQueen created some of the most elaborate runway shows in the history of fashion, and as a result the anticipation of his seasonal collections thrived. His untimely death did not slow the fashion powerhouse, however, with current creative director Sarah Burton at the helm.
---
Celebrity Spotting
---
Highlighting the brands success and popularity, Hollywood's most stylish have been seen wearing Alexander McQueen sunglasses, including Sarah Jessica Parker and Natalie Portman. SJP was seen sporting a pair of chic Alexander McQueen sunglasses featuring an oversized round shape while Natalie Portman was seen showcasing a pair of brown metal aviators, giving her a more dressed-down appearance, yet equally flattering and stylish.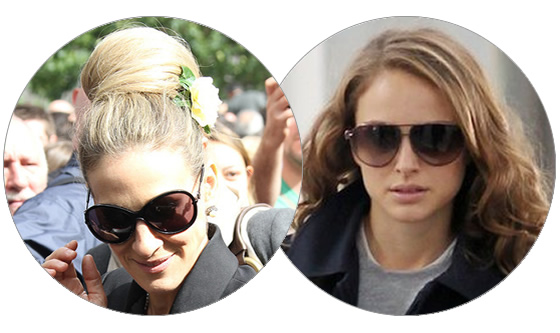 ---
Editor's Picks
---
No matter your preference a pair of Alexander McQueen sunglasses are sure to improve your look and confidence. From plastic aviators in stark white to glamorous oversized sunnies in classic black, try a pair of statement sunglasses from the Alexander McQueen sunglasses collection. All Alexander McQueen sunglasses feature the classic, subtle McQueen insignia, a skull, on each temple.
Accessorize with a pair of stylish Alexander McQueen sunglasses to complete your look.