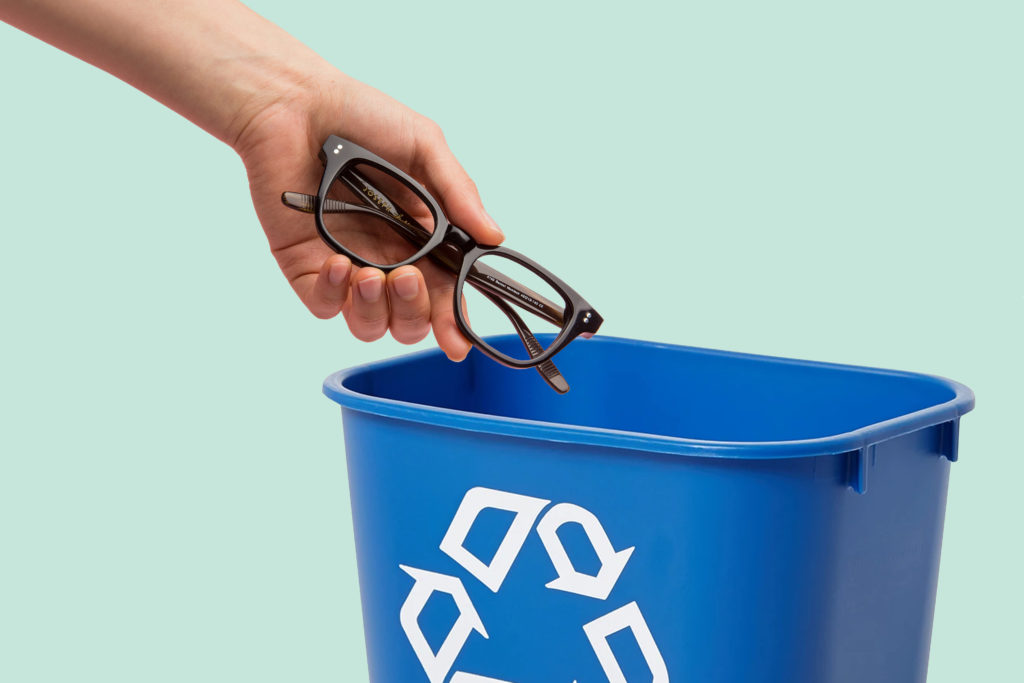 These days, glasses aren't just for seeing better. They're for looking better too. Now that glasses are widely recognized as a fashion statement, you may be in the market for a new pair of specs. But what should you do with your old pair? Can you donate your eyeglasses? 
If you're not interested in keeping your old pair of glasses as a backup, there are several other options you can explore:
1. Donate eyeglasses. Yes! You can donate your glasses. We'll explain how later on.
2. Recycle glasses frames. If they have glass lenses, remove them and recycle them with glass, then you can recycle the frames with either your plastics or metals, depending on the frame material.
3. Sell glasses frames. Someone else may not be able to use your prescription, but they can definitely reuse the frames. If they're a popular name brand — like Tory Burch, Michael Kors or Coach — it's possible that you could get a decent return on them. — it's possible that you could get a decent return on them.
4. Replace the lenses. If you're shopping around simply because your prescription changed, you can just replace the lenses with ones that meet your needs.
How can I donate my old glasses?
Maybe you've been thinking about donating your glasses for a while — you just didn't know how. Would it be weird if you just walked into a thrift store with your old glasses? Is that even the right place to take them?
You can put your anxiety at ease. Here are a few ways to donate your glasses:
1. Mail them in. Avoid face-to-face interaction altogether by mailing them in to an organization that accepts donations. (We'll name a few in the next section.)
2. Walk them in. Yes, there are several places that allow you to drop off donations in person. You just have to know where to go.
3. Slip them in a donation box. Some organizations place drop boxes in high-traffic areas where you can leave your old pair of glasses.
4. Take them to a drive-thru. If you're in a hurry, you can roll through a drive-thru for a national nonprofit organization. Larger nonprofits have streamlined the donation process, making it as convenient as getting a Macca's Big Mac.
All of these are great options, but before you take your old glasses anywhere, make sure they are in good condition. Double-check that they're not missing screws, cracked or bent. The nonprofit or business to which you're trying to donate may reject your donation if the glasses are in poor shape.
Where can I donate my used glasses?
When you hear the word "donation," you probably associate it with charities and nonprofits. However, not all charities accept donations for eyeglasses — and not all organizations that accept these donations are nonprofits. Here are a few places you can donate your old glasses:
Lions Clubs New Zealand accepts prescription glasses, reading glasses, children's glasses and sunglasses. Their website provides a list of locations and contact details that you can donate to.

Papakura Lions Club: 21 Youngs Road, Papakura 2110
Karori Lions Club: 36 Parkvale Road Karori, Wellington, 6012
Christchurch Lions: C/- Woolston Pharmacy, 685 Ferry Road, Woolston, Christchurch 8023 or C/- Murray Walsh, 67 Ti Rakau Drive, Ferrymead, Christchurch 8023
Before you make the trek to your local donation center, call ahead to make sure they're currently accepting eyeglasses. It's possible they're already at capacity, or the location you found can't take glasses donations for some reason. It's definitely better to know before you go.
You've donated your glasses. Ready for a new pair?
You've made your donation, and now you want a new pair of glasses. But you haven't found the right fit yet. Here are a few things to consider:
Did you know about our 'Buy One, Give One' program? For every pair of glasses that you bought, Clearly will donate a pair to someone in need. Don't miss this chance to help yourself and others see clearly.