The style choices we make while looking to improve our vision or protect our eyes from the sun have always been influenced by those in the public eye. Whether it be through Hollywood movie stars or modern-day celebrities, we look to those we see as effortlessly cool and glamorous to decide on the shapes and styles of our eyewear.
So, we've decided to take a look back at some of these legendary people and the specs or sunnies they made so iconic, while suggesting how you can recreate the looks today.
Oversized: Audrey Hepburn's performance and look in the legendary film Breakfast at Tiffany's epitomises timeless elegance and style. Her oversized sunglasses continue to influence people today, from celebrities and fashion designers to magazine editors and models. She proved that when it comes to protecting your eyes from the sun and remaining in vogue, bigger truly is better. For a modern-day take on the trend, we'd suggest this chic pair by Dior. True, timeless style… just the way Audrey would have liked it.
Cat-eye: When it comes to cat-eye frames, one person from the past always springs to mind. Marvellous Marilyn, of course. Opting for eyeglasses in the retro style, the glamorous actor made the already fabulous frame shape even more fabulous. Today, we've seen both cat-eye specs and sunnies make a huge comeback. Although the shape has maintained its retro feel, its also been given a contemporary edge that makes it the go-to for every fashionista. We recommend this black style by our exclusive brand, Derek Cardigan. Purrrferct.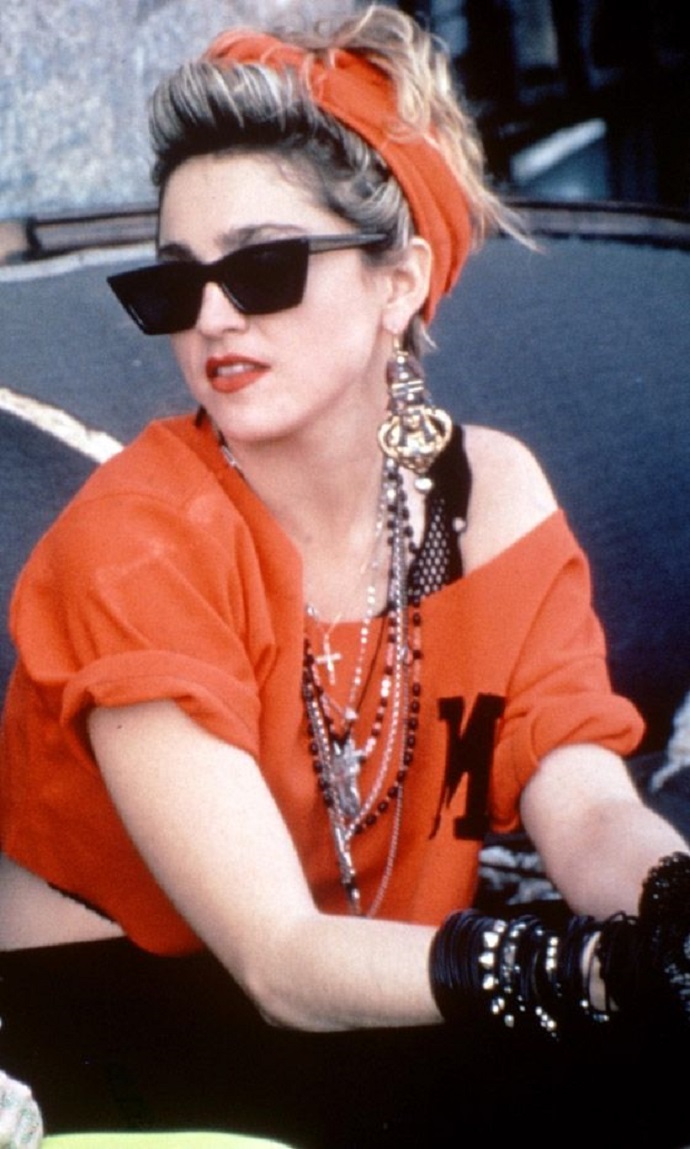 Retro-Wingtips: Although not the exact style we've all come to know from Ray-Ban, when we think back to Madonna's performance and style in Desperately Seeking Susan we tend to think of the Retro-Wingtip style. Madge's pair were actually a little more oversized and angular, although we've seen her sport many Ray-Ban styles since then over the years. In general, Ray-Ban's Retro-Wingtips are the most iconic style of sunglasses and their styles, or very similar ones, have been worn by movie stars, models and musicians for decades. Don't forget to pick your pair up, they're an absolute style staple season after season.
Round: Janis Joplin for the ladies, John Lennon for the guys. The Swingin' Sixties truly secured the round shape of eyewear on the style map. Round eyeglasses and sunnies have both made a huge comeback in recent years, making a quirky yet fashion-forward addition to any woman or man's style repertoire. Round glasses can also soften your look if you have a square-shaped face with angular jaw bones, although we tend to believe they suit anyone. Want to try a pair for yourself? Give Janis' flower-power look a contemporary update with this stylish pair by Derek Cardigan.
One for the guys: When it comes to glasses for the guys, there are countless legendary icons to draw inspiration from. Whether it's Retro-Wingtips on James Dean or Aviators on Michael Jackson, the list of eyewear ambassadors throughout the years goes on. There's one man, however, who always springs to mind when it comes to stylish specs. We`re of course referring to Buddy Holly. The rock & roll legend put the 'chic' into 'geek chic', as well as ticking so many different boxes when it comes to shape and style. Who says guys cant rock clear, oversized, cat-eye frames? Buddy did. Find your next pair of stylish specs now on Clearly.co.nz.
Be your own icon, shop all our eyeglasses and sunglasses now.