If you've ever been shopping for a pair of new glasses you know it's not hard to tell when they aren't the right ones. They might sit funny, be too wide, or cover up half of your face. But when you find the right pair of glasses you know it, they sit properly and enhance your facial features. Finding the right type of glasses is easy; you just need to know your face shape.
We all have different face shapes, some square, round, heart, oblong, and oval to name a few. However, oval shaped faces seem to be the easiest to find the perfect pair of glasses for. With high cheek bones, balanced proportions and a slightly narrow chin, and oval face has a lovely structure. Beauties like Beyoncé Knowles, Charlize Theron, Cameron Diaz, and Courtney Cox all have oval face shapes.
---
Celebrity Face Twins
Oval Face Shape
---
---
Glasses for Oval Faces
Editor's Picks
---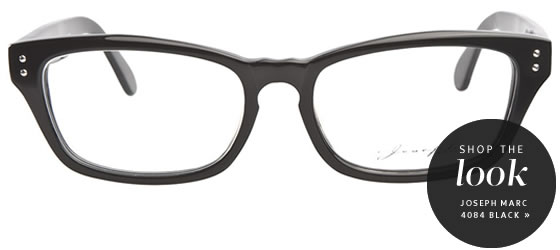 Oval face shapes tend to be the easiest to find glasses for because they look good in a variety of frames. That's not saying oval face shapes can pull off just any type of frame, there are some things they will want to consider first.
When shopping for glasses, the best frames for an oval face are geometric shapes such as squares and rectangles. The contrast of the symmetrical lines in the glasses emphasizes the soft curves to an oval face, adding even more beauty.
With that being said, there are some guidelines to follow when looking for glasses for oval face shapes. Glasses that are too big will overpower an oval face and hide its best features. But shape and size is just the first thing to look at when buying glasses for an oval face. Colour and pattern will either make or break how glasses look on someone's face. Too dark and they will be overwhelming, too light and you look washed out.
All eye colours will look great with black frames, but if you really want your eye colour to stand out try these. Greens go well with yellows and purples, blues work with reds and oranges, and browns glow in purples and greens.
Also consider your hair colour. Frames will work opposite of your hair colour, for example, if you are a blonde, browns and blacks will be flattering and if you're a brunette, lighter pale colours will look best.
At ClearlyContacts.co.nz we have a great selection of frames for oval face shapes. Whether you are looking for prescription eyeglasses or sunglasses we have something for everyone.